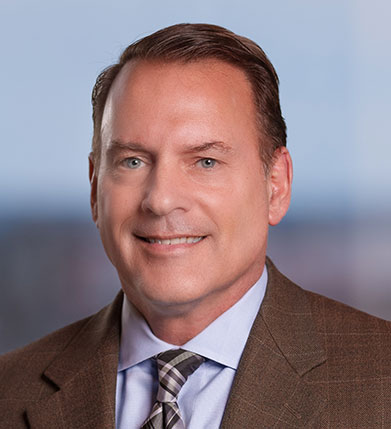 Practice areas
Personal Injury
Workers Compensation
Dental Malpractice
Non-compete Litigation
State & Federal Bar Admissions
Missouri Bar Association, 1988
Illinois Bar Association, 1989
U.S. Federal Court, Eastern District of MO, 1988
Honors
Education
J.D., University of Missouri, Columbia., 1988
B.A., Economics, University of Miami, Florida, 1985
-Miami Hurricane Varsity Soccer Team
Memberships & Associations
Missouri Bar Association
Illinois State Bar Association
American Bar Association
Bar Association of Metropolitan St. Louis, LRIS Executive Committee
St. Louis County Bar Association
St. Louis Lawyers Association
Edward Kruse welcomes the opportunity to represent people injured in auto accidents, medical malpractice claims, from slip and fall accidents, dangerous conditions of property or worker's compensation claims. His clients have been well-served by his diligent and well-prepared approach to litigation. They have also benefitted from the many practical or creative legal solutions that Mr. Kruse has provided.
In his personal time Ed enjoys spending time on the water, boating, swimming, fishing and enjoys wildlife and nature with his three children. Ed loves sports of all kinds, and played college soccer at the University of Miami, FL and Missouri State. Ed has also run five marathons and ran in the Boston Marathon two times, placing in the top 16% at Boston for his age group. Ed is a big fan of the St. Louis Cardinals, Blues, SLU, Mizzou, and the Miami Hurricanes.
Regardless of their legal needs, Mr. Kruse's clients have come to know that they will get:
Advocacy – Mr. Kruse will fight for your rights. When handling your claim, your case or preparing for litigation, as well as in presenting a case at trial, we will go the extra mile to get you the best possible result, you deserve that!
Integrity – We believe that our clients deserve the best and they deserve to be fully informed at all times as to the status of the case and all options available to them.
Quality – The vast majority of our clients come to us by referrals from our clients, family or friends, or other attorneys and judges who have worked with us. We believe that being referred to our clients is the greatest compliment and reflects the fact that our previous clients were highly satisfied with the quality of our work. We strive to continue with quality work to further enhance our reputation and track record.
Service – We make ourselves available and accessible to our clients and stay focused on the needs of our clients at all times. We are always there for you.
Contact St. Louis attorney Edward Kruse today for a free initial consultation.
If you need legal advice or representation, or just have a legal question, please call me, Edward Kruse, Attorney at Law at (314) 333-4141 or contact me via Email at edk@stlouisattorney.com.
I will speak with you personally and will be happy to give you a full evaluation of your case for free.
Call today (314) 333-4141.